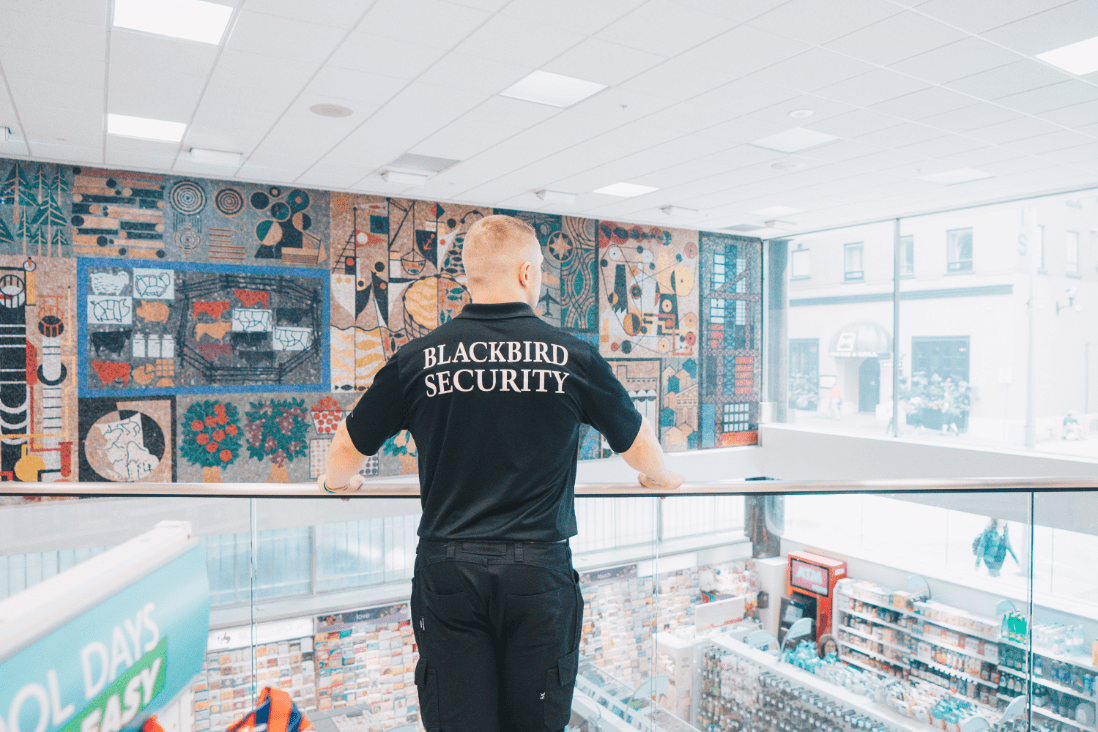 A Trusted Name in Mall Security
With years of experience partnering with some of Canada's largest property and facility management companies, Blackbird Security is your number one choice for shopping mall security. We understand the unique demands posed by busy public settings such as malls, department stores and shopping centres. That's why our best-in-class mall security training program includes customer service, crowd control, conflict resolution and incident de-escalation. If your current mall security provider isn't providing this comprehensive training, it's time to work with Canada's shopping mall security experts.
Request a Quote
Why Mall Security is Important
Each day, millions of Canadians visit shopping malls looking to browse, shop, or just hang out. These crowds present the perfect cover for criminals to discreetly go about their business. Our mall security experts understand the importance of maintaining the ambience and pleasant atmosphere of a mall, while preventing these individuals from engaging in crime.
Our goal is to ensure shoppers enjoy a safe experience while controlling crowds, identifying suspicious individuals and rooting out crime in a calm and discreet manner. We understand our guards represent your mall, that's why they are dedicated to maintaining excellent communication and customer service at all times.
Typical Duties of Mall Security Staff:
Loss Prevention Support

Crowd Control

CCTV Monitoring

Frontline Incident Response
Enforcing Store Policies

Support for Public Health Measures

Assisting Customers and Staff

Bag Checks
Where Are Shopping Mall Security Staff Used?
Flexible and dependable, our shopping mall security guards can be used by the Facility Operation teams for concierge services, foot patrols, parking enforcement, CCTV monitoring, incident report writing, customer service and any other function necessary.
Despite their name, this isn't just malls! This division of our security guards services complex retail centres, mix used buildings and adjoining office towers. 
Request a Quote
Uniformed Security Guards
Our frontline uniformed security guards act as a visual security presence in a mall setting, responding to customer enquiries while analyzing their environment for threats. Given the high level of foot traffic in a mall setting, our mall security guards receive dedicated customer service training to go alongside their comprehensive security training. This equips them with the wide-ranging skillset they need to thrive in this bustling environment.
Mobile Patrols
Perfect for times a mall or store is empty, our Mobile Patrol Service offers randomized patrol schedules along pre-planned routes. This service can be tailored for alarm response, and utilizes TrackTik technology to deliver real-time insights and reporting from each patrol. Our clients love the streamlined communication and transparency of Mobile Patrols.
Mall Concierge Security
Usually stationed near the entrance to the mall, our mall concierge security guards act as the eyes and ears of the mall. They're equally adept at monitoring CCTV security systems, providing direction to customers, and acting as a warm and reassuring presence in your mall. They will act as champions of your mall security policies, while their first aid and customer service training allows quick and efficient response to any incident.
★★★★★

I am the commercial operations manager at Dells Shopping Centre in Surrey, BC. We have been using Blackbird Security as our security vendor the past two years to provide us with 24/7 uniform security coverage. Their guards are professional, reliable and have excellent customer service. They deal with any incidents, loitering or attempted drug use on property immediately, tactfully and effectively. They have done outreach and formed good direct relationships with of our tenants. I would recommend this company for any malls or shopping centres looking for professional security guards.

Bill Cannon

Operations Manager, Bosa Commercial
★★★★★

Great experience!! The team not only listens to feedback, they work with you and the intricacies of your business to get the results you want. They were able to decrease the loss due to theft by a significant amount both quickly and efficiently. They have allowed me time to grow my business and not worrying about preventable theft.

Kiran Basran
★★★★★

I've used Blackbird for the last 4 years and I'm very happy with the service. The guards are the best and make my staff and customers feel safe. The management provides excellent service and always goes the extra mile to accommodate my needs.

Lyndsie Lojpur
★★★★★

Having shuffled through so many subpar security companies for my business it was a blessing to find Blackbird Security. Hands down the most professional, reliable and engaged security companies in the lower mainland.

Hitesh Patel
★★★★★

Every encounter i've had with a Blackbird Security guard has been super amazing. Every one of them have been kind and professional towards me and everyone they meet. If I could give this company more than 5 stars i would!!!!

Lindsay Kruk
★★★★★

Best security company in Calgary for retail stores, responded quickly to any issues and the guards have amazing customer services skills . Highly recommend!!!

Charlotte Baker
Industry Leading Training Through our Blackbird Academy
As the role of security professionals continues to evolve, Blackbird Security saw the need to train our staff to handle any scenario in a calm and reassuring manner. That's why we created our pioneering Blackbird Academy training program. 
Delivered via our own in-house team and exterior experts, our comprehensive training program encompasses areas like St. John's Mental Health Training, Indigenous Awareness Training, and Conflict Resolution. If your current security provider doesn't offer this level of training, perhaps it's time to upgrade.
Modules include:
Customer Service Training
Verbal and Written Communication Training
Incident Report Writing
CCTV Training
Access and Crowd Control Training
Incident De-Escalation Training
Basic and Advanced Security Training

Trespass to Property Training
Crisis Management Training
Emergency Response Management Training
Weapons Awareness and Avoidance Training
Occupational Health (OFA) Training
WHMIS Training
Above all else, our guards must hold a valid security license for the province they operate in. 
TRACKTIK TECHNOLOGY
Real-Time Reporting
Many of Blackbird Security's most popular services utilize the power of TrackTik technology for real-time reporting. Based on GPS tracking, this app allows our security guards to work smarter, more efficiently, and cover more ground. Via GPS pings, clients can watch the progress of security patrols in real time via an app or live dashboard that also includes critical details like pictures and reports from the field.
Giving back to our community
Social Impact
Blackbird Security is committed to improving the diverse communities we serve by creating a culture clients, employees and management are proud to be a part of. We believe security companies like ours have a leading role to play in creating a better society for all. We achieve this goal by working to uplift marginalized communities across Canada, alongside our support of organizations such as the Breakfast Club of Canada, ALS Canada, and Covenant House.
Let's Discuss Your Security Options
Want to hear more about Blackbird Security's services? If you have any questions about our services, or how Blackbird Security can help protect your business, don't hesitate to contact us.
Looking for employment? Check out our Job Board for current openings!
Please note that all job inquiries must be made on Indeed and will be blocked if made on the form below.