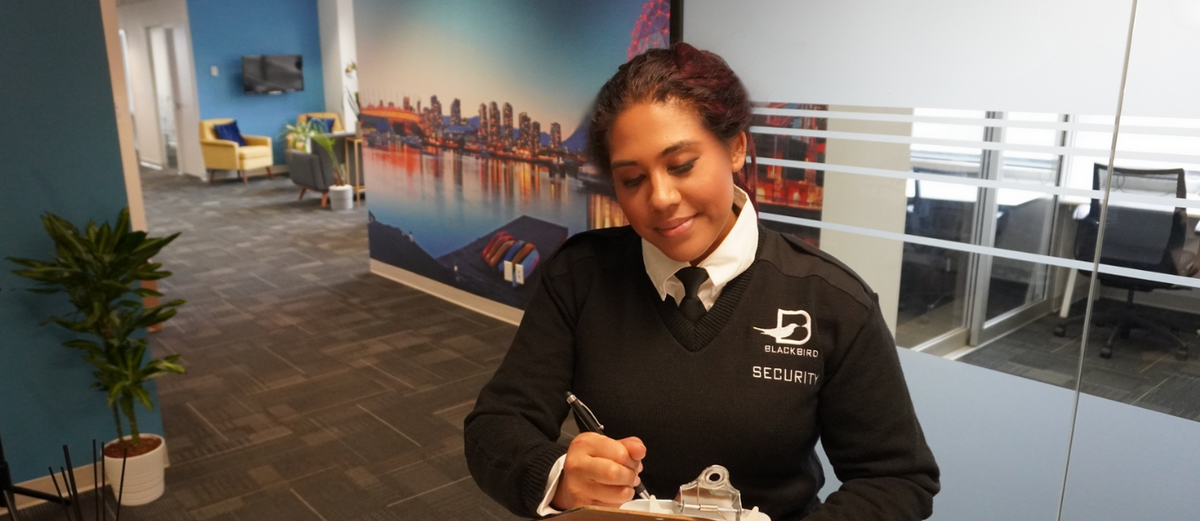 Office and Facilities Security
Canada's No.1 Provider of Corporate Office Security
In today's changing business world, it's crucial for office and facilities security to protect a business from crime while creating a space where employees and visitors feel safe and welcome. 
At Blackbird Security, we possess years of experience protecting office and facilities security clients across Canada. Our tailored security services protect against physical crimes, while also layering protection against cybercrime and fraud. If your facilities security partner doesn't offer this variety of service, it's time to partner with Canada's fastest growing security company.
Request a Quote
Customized Security Guard Services
The key difference between Blackbird Security and our competitors is that our security services come fully customizable to suit our clients. We pride ourselves on offering the service choice of a large security company, alongside the flexibility and personal touch of a small business.
With years of servicing a diverse range of office security clients, we've learned there's no off-the-shelf answer for security. Instead, our team will take the time to learn the unique challenges you face, before devising a custom security plan that works for you. 
Office and Facilities Services
We understand the high value, sensitive work that occurs in office spaces and corporate facilities. That's why our services are designed to reduce your business risks, while working to improve the morale and safety of your staff. Here are some of our most popular corporate office security services:
Concierge Security
Your facilities are in safe hands with the presence of our highly trained corporate concierge security team. These adaptable security professionals will seamlessly slip into their front desk duties, providing a frontline security presence while greeting visitors, enforcing office policies and maintaining surveillance of assigned areas.
Mobile Security Patrols
Corporate offices and facilities often lie empty at night, presenting an attractive target for criminal behaviour. Our mobile security patrols step into this gap, patrolling pre-determined routes on a randomized schedule when your office needs protection. This service includes real-time data and advanced reporting that keeps you informed no matter where you are.
Uniformed Guards
With office buildings and spaces a constant target for vandalism, loitering and mischief, our uniformed security guards provide an effective visual deterrent and frontline response. Our uniformed guards are security professionals with extensive & advanced training.
★★★★★

The management are professional and responsive to requests made. They go above and beyond in customer service and satisfaction.

Sylvia Mcloughlin
★★★★★

I have tried many other security services - they are all the same and subpar at best. I gave Blackbird a shot and was very glad that I did. The management is super responsive, learns quickly from regular feedback and strives hard to meet my individual business needs. A refreshing experience vs dealing with the other security companies out there. Would recommend to any business looking for quality service!

Robson Liu
★★★★★

Mic runs a very well organized and specialized team of individuals. These individuals go the extra mile with every aspect of the business, and can feel safe knowing your business is protected. Would highly recommend Blackbird Security to anyone looking for quality security professionals.

Mandy Wass
★★★★★

Had the pleasure of hiring Blackbird Security for my industrial portfolio which covers over one million square feet in area. They have been amazing to work with; great communication, detailed reports and always go above and beyond their scope of work to ensure a proper job has been completed. Would recommend this company to property managers who want to ensure first class service to their tenants.

Perry Mahal

Industrial Property Manager, ONNI Group
★★★★★

Having shuffled through so many subpar security companies for my business it was a blessing to find Blackbird Security. Hands down the most professional, reliable and engaged security companies in the lower mainland.

Hitesh Patel
★★★★★

Blackbird Security team is efficient at crowd and access control and is extremely competent at writing reports and customer service. Their professionalism and reliability make them a pleasure to work with. I highly recommend Blackbird Security for any security endeavour that they may seek to pursue.

Kendra Kryszak
★★★★★

We appreciate your outreach. Your staff has been doing an excellent job inspecting and promptly reporting any issues or potential security threats to the building. We value our current cooperation and look forward to maintaining a strong working relationship moving forward.

Thank you for your continued support.

Savo

Second and Main Building Manager
★★★★★

Professional, flexible and easy to work with! They have been providing service for our building for over a year and so far we're happy and would definitely recommend them!

Andrea Horbaty

Board Member of Ultima Tower
★★★★★

We used Blackbird Security over the Christmas holidays. They were on time, very professional and respectful of our building, and easy to deal with. I highly recommend them.

Bryan Polak

General Manager of West Hillhurst Community Association
Where are Office and Facilities Security Staff Used?
No corporate facility is too big or too small for our office security team, and our team boasts a track record of success working with some of Canada's biggest names. Here are some of the typical uses for our corporate office security team:
Corporate Head Office Security
University Campus Security
Co-working Space Security
Remote/WFH Offices (Cybersecurity)
Small Business Office Security
Technology Campus Security
Request a Quote
Industry Leading Training Through our Blackbird Academy
As the role of security professionals continues to evolve, Blackbird Security saw the need to train our staff to handle any scenario in a calm and reassuring manner. That's why we created our pioneering Blackbird Academy training program. 
Delivered via our own in-house team and exterior experts, our comprehensive training program encompasses areas like St. John's Mental Health Training, Indigenous Awareness Training, and Conflict Resolution. If your current security provider doesn't offer this level of training, perhaps it's time to upgrade.
TRACKTIK TECHNOLOGY
Real-Time Reporting
Many of Blackbird Security's most popular services utilize the power of TrackTik technology for real-time reporting. Based on GPS tracking, this app allows our security guards to work smarter, more efficiently, and cover more ground. Via GPS pings, clients can watch the progress of security patrols in real time via an app or live dashboard that also includes critical details like pictures and reports from the field.
Giving back to our community
Social Impact
Blackbird Security is committed to improving the diverse communities we serve by creating a culture clients, employees and management are proud to be a part of. We believe security companies like ours have a leading role to play in creating a better society for all. We achieve this goal by working to uplift marginalized communities across Canada, alongside our support of organizations such as the Breakfast Club of Canada, ALS Canada, and Covenant House.
Let's Discuss Your Security Options
Want to hear more about Blackbird Security's services? If you have any questions about our services, or how Blackbird Security can help protect your business, don't hesitate to contact us.
Looking for employment? Check out our Job Board for current openings!
Please note that all job inquiries must be made on Indeed and will be blocked if made on the form below.