Committed to protecting your business and community
Tailored and dependable security services
SECURITY EXCELLENCE ACROSS CANADA
Blackbird Security is Canada's fastest growing provider of professional security services. We operate Canada-wide, servicing clients across a diverse range of industries, in locales spanning coast to coast. No matter the type of business, location or size, we're committed to meeting and exceeding your security challenges.

Our mission
Keeping our communities safe and strong
We aim to revolutionize the way security services are offered in Canada, by retaining a dedication to local, flexible services, while adopting a national scope.
Request a Quote
★★★★★

Had the pleasure of hiring Blackbird Security for my industrial portfolio which covers over one million square feet in area. They have been amazing to work with; great communication, detailed reports and always go above and beyond their scope of work to ensure a proper job has been completed. Would recommend this company to property managers who want to ensure first class service to their tenants.

Perry Mahal

Industrial Property Manager, ONNI Group
★★★★★

"I wanted to let you know how happy I am with the current team you have sent to my store. They are doing a great job and have really been on top of things. Please express my gratitude to them as well!"

Ken Kimmes

General Manager, MEC
★★★★★

"I am a long time Blackbird client. Their uniform security guards are all very professional, presentable and have great customer service. They do a good job of deterring theft, de-escalating volatile situations and providing greeting and customer service to our patrons while making them and my staff feel safe. Best security company I've used!"

Kiran Basran

Store Owner/Operator of Shoppers Drug Mart 2112 in Coquitlam
★★★★★

Blackbird Security has been performing the role of safety ambassadors for the City of Duncan since the summer of 2019. In this role, they have helped provide a safety presence along the Trans-Canada corridor. Their staff have been professional, reliable and on time. They cover all shifts including any time one of their guards is sick. They are quick to respond to calls and available anytime during the day/evening. I recommend them to anyone looking for professional security guards.

Paige MacWilliam

Director of Corporate Services, Duncan BC
★★★★★

"Blackbird Security team is efficient at crowd and access control and is extremely competent at writing reports and customer service. Their professionalism and reliability make them a pleasure to work with. I highly recommend Blackbird Security for any security endeavour that they may seek to pursue."

Kendra Kryszak

Manager, Parks and Public Space, City of Vernon
★★★★★

"Blackbird Elite Suit and Tie guards provide the prestigious professional image and great customer service which our business needs. Blackbird is a very reliable company run by people who truly care."

Sophia Koumbis

Director of Blubird Boutique on Alberni Street in Vancouver
★★★★★

"We appreciated the professionalism displayed by the staff and guards, as well as the prompt attention to our concerns and emails.  Nightly patrol reports were filled and staff kept us informed and updated on issues in the district as required. Highly recommend Blackbird Security to businesses or associations requiring security services."

Claudia Laroye


Executive Director, Marpole Business Association
★★★★★

Blackbird Security is an outstanding integrated security provider. They supply professional and reliable security guards for a couple Downtown properties of ours in Edmonton, Alberta. Their mobile guards are very responsive, fast acting, professional and thorough during their patrol checks. With combining their guard man-power and mobile fleet, we have peace of mind that our site is always safe and secure. With my two Downtown locations, I need to be able to trust that my security provider has not only our back, but our valued tenants as well. With that in mind I have no doubt that they will be able to provide you the same top notch service for any of your security needs.

David Lehman

Commercial Property Manager, ONNI GROUP
★★★★★

I am the commercial operations manager at Dells Shopping Centre in Surrey, BC. We have been using Blackbird Security as our security vendor the past two years to provide us with 24/7 uniform security coverage. Their guards are professional, reliable and have excellent customer service. They deal with any incidents, loitering or attempted drug use on property immediately, tactfully and effectively. They have done outreach and formed good direct relationships with of our tenants. I would recommend this company for any malls or shopping centres looking for professional security guards.

Bill Cannon

Operations Manager, Bosa Commercial
Best in class training
Blackbird Academy
The safety and security of our guards and clients is our top priority. That's why we invested in our pioneering Blackbird Academy training school. Delivered via our own in-house team, alongside exterior experts, our comprehensive training program encompasses areas like St. John's Mental Health Training, Indigenous Awareness Training, Conflict Resolution and Customer Service. If your current security provider doesn't offer this level of training, it's time to work with Canada's number one security company.
Learn More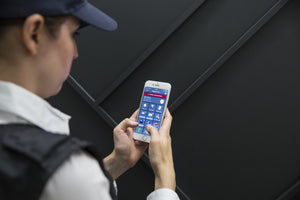 Tracktik Technology
Real-Time Reporting
Stay informed about your property with up to the minute updates. Via GPS pings, clients can watch the progress of security patrols in real time via an app or live dashboard that also includes critical details like pictures and reports from the field.
Our Services
Request A Quote
Interested in learning more about Blackbird Security's range of professional security services? Simply complete the form below and we'll be in touch.
Looking for employment? Check out our Job Board for current openings! Please note that all job inquiries must be made on Indeed and will be blocked if made on the form below.
Please note that all job inquiries must be made on Indeed and will be blocked if made on the form below.