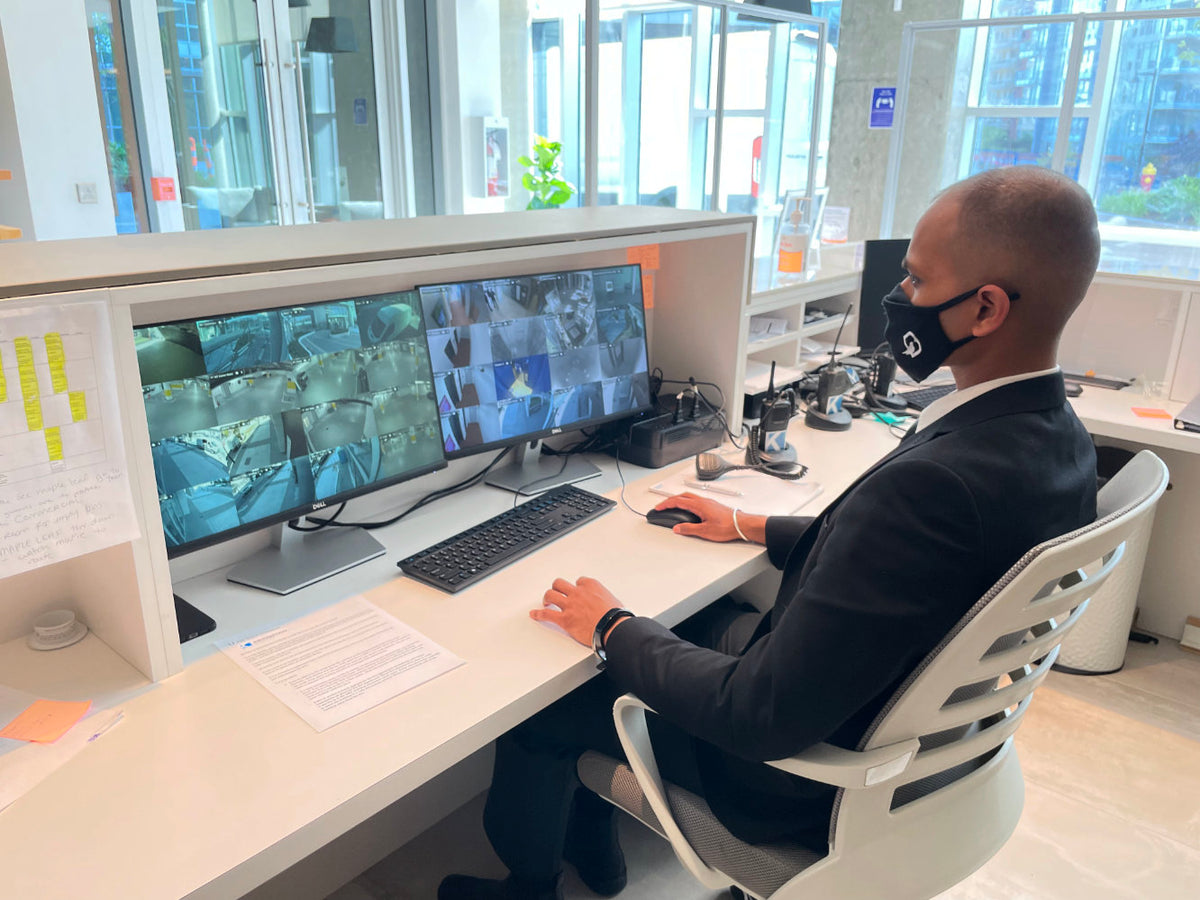 CCTV Installation & Monitoring
Protection, Detection and Response
Blackbird Security is Canada's leading provider for Commercial Closed Circuit Television (CCTV) Installation. Our team of security technology experts boast years of experience working with clients of all sizes in all business sectors, protecting them from break-ins and theft through our security technology solutions. No matter your technology needs, our expert team are standing by to assist.
We can provide turnkey, integrated security solutions that will protect your property around the clock while providing a strong visual deterrent to crime. 
CCTV Installation is subject to provincial availability.
Request a Quote
24/7 Security Coverage
Upgrade Your Security Technology
Crime doesn't sleep. In fact, it thrives where gaps in security coverage are found. Installing a CCTV Camera System with Blackbird Security allows you to monitor your property anywhere via computer or mobile device, offering peace of mind and protection 24/7.
Having installed CCTV Security Systems for several clients, we've seen them enjoy the following benefits in their business or property:
Instant playback of incidents by time, date or location
Reduction in theft, break-ins and shoplifting
Improvements in management control and efficiency
Safer work environment for employees
24/7 monitoring of point-of-sale, access points and alarm systems
CCTV Installation
Industries We Partner With
CCTV Installation can be a huge security benefit for almost every business, in every field. Our team commonly installs CCTV cameras for businesses and properties in the following industries*:
Residential Buildings
Office Buildings
Commercial Properties
Property Management Companies
Industrial Sites
Warehouses
Restaurants and Bars
Retail Stores
Government Buildings
*Subject to provincial availability.
Request A Quote
★★★★★

I hired Blackbird Security several times for suit and tie client events, special open houses and concierge services. The concierge team members were always very professional and had excellent deportment. You can tell Blackbird puts a heavy emphasis on customer service training with their staff. Dealing with Blackbird for the past 5 years has been a pleasure and I will continue to use and recommend their services to other property managers and strata council members.

Eniz Aziz

Century 21 and The Aziz Group
★★★★★

We have been using Blackbird Security concierges for over 2 years at our building and I have nothing but great things to say about them. The residents have given us great feedback about the concierge personnel Blackbird has placed at the front desk and I would highly recommend this company to other stratas and property management companies.

Gordon MC

Stratawest Management Ltd.
★★★★★

Had the pleasure of hiring Blackbird Security for my industrial portfolio which covers over one million square feet in area. They have been amazing to work with; great communication, detailed reports and always go above and beyond their scope of work to ensure a proper job has been completed. Would recommend this company to property managers who want to ensure first class service to their tenants.

Perry Mahal

Industrial Property Manager, ONNI Group
Where We Operate
Blackbird Security can handle any of your CCTV Installation needs across Canada. Our team will take care of the entire process from start to finish, handing you the keys to a fully functional and easy to operate CCTV Security Solution. Get in touch to discuss your unique needs and get a quote.
Request a quote
Industry Leading Training Through our Blackbird Academy
As the role of security professionals continues to evolve, Blackbird Security saw the need to train our staff to handle any scenario in a calm and reassuring manner. That's why we created our pioneering Blackbird Academy training program. 
Delivered via our own in-house team and exterior experts, our comprehensive training program encompasses areas like St. John's Mental Health Training, Indigenous Awareness Training, and Conflict Resolution. If your current security provider doesn't offer this level of training, perhaps it's time to upgrade.
TRACKTIK TECHNOLOGY
Real-Time Reporting
Many of Blackbird Security's most popular services utilize the power of TrackTik technology for real-time reporting. Based on GPS tracking, this app allows our security guards to work smarter, more efficiently, and cover more ground. Via GPS pings, clients can watch the progress of security patrols in real time via an app or live dashboard that also includes critical details like pictures and reports from the field.
Giving back to our community
Social Impact
Blackbird Security is committed to improving the diverse communities we serve by creating a culture clients, employees and management are proud to be a part of. We believe security companies like ours have a leading role to play in creating a better society for all. We achieve this goal by working to uplift marginalized communities across Canada, alongside our support of organizations such as the Breakfast Club of Canada, ALS Canada, and Covenant House.
Let's Discuss Your Security Options
Want to hear more about Blackbird Security's services? If you have any questions about our services, or how Blackbird Security can help protect your business, don't hesitate to contact us.
Looking for employment? Check out our Job Board for current openings!
Please note that all job inquiries must be made on Indeed and will be blocked if made on the form below.