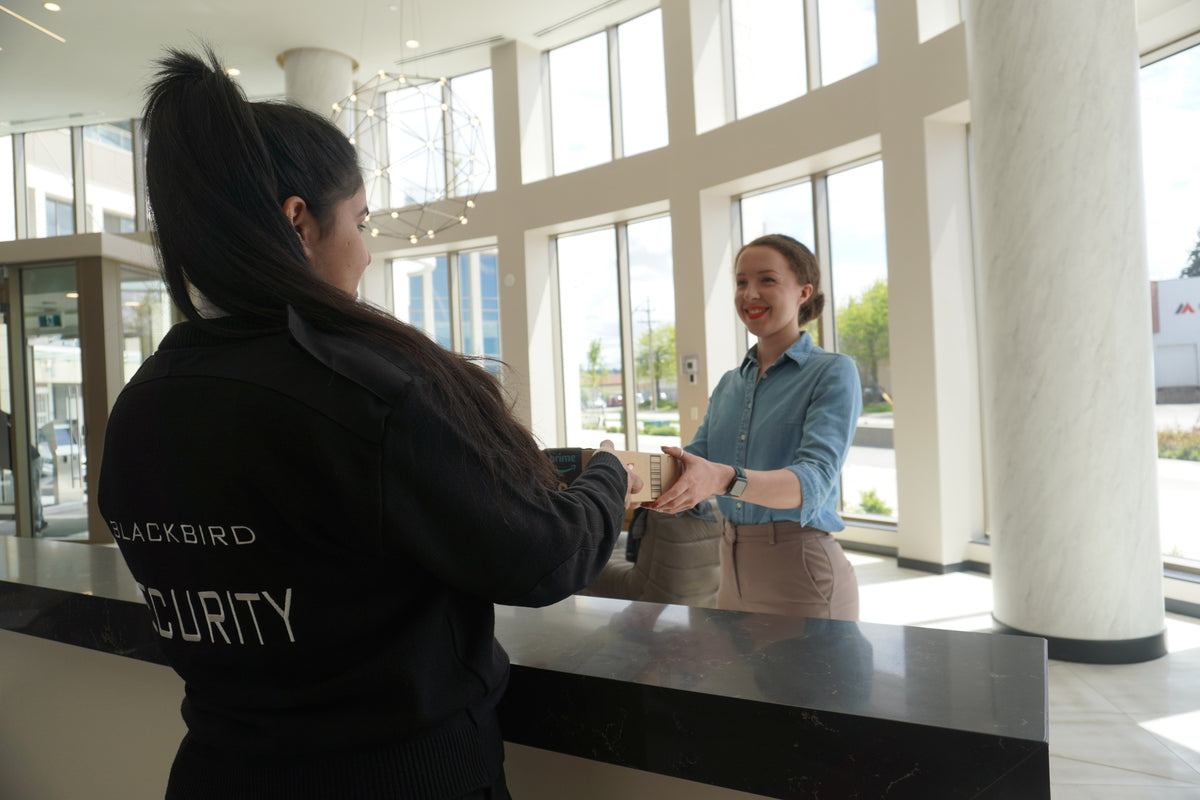 Residential and Commercial Buildings
Residential Security You Can Depend On
When it comes to residential security services, there's no room for mistakes, half measures or excuses. Our residential security team provide peace of mind, with their industry leading training and experience making them the number one option to protect your home and your family. Learn how Blackbird Security is Canada's number one provider of security in residential and commercial settings.
Request a Quote
CONCIERGE
Keyholding and package control

ACCESS CONTROL
Prevent Unwanted Visitors
BYLAW ENFORCEMENT
Perfect for Strata Buildings

LICENSED GUARDS
Industry Leading Training
Customer Service Approach
In a residential setting like a condo building, a security guard doesn't just keep the property safe. Instead, they work to build community by providing a warm and welcoming presence for visitors and residents alike. We understand the importance of coming home to a cheerful presence and a secure building, that's why our residential security guards receive dedicated customer service training alongside our industry leading security training program.
Request a quote
How our Residential and Commercial Guards can Support Your Property
Front-of-House security presence

Greeting/Checking-in visitors

Upholding building rules and regulations

Property surveillance

CCTV monitoring
Alarm response

Customer service

Incident report writing

Package collection

Protection against theft, accidents, fires
Tracktik technology
Real-Time Reporting
Many of Blackbird Security's most popular services utilize the power of TrackTik technology for real-time reporting. Based on GPS tracking, this app allows our security guards to work smarter, more efficiently, and cover more ground. Via GPS pings, clients can watch the progress of security patrols in real time via an app or live dashboard that also includes critical details like pictures and reports from the field.
Customized Security Guard Services
The key difference between Blackbird Security and our competitors is that our residential security services come fully customizable to suit our clients. We pride ourselves on offering the service choice of a large security company, alongside the flexibility and personal touch of a small business.
With years of servicing a diverse range of residential security clients, we've learned there's no off-the-shelf answer for security. Instead, our team will take the time to learn the unique challenges you face, before devising a custom security plan that works for you. 
Request A Quote
Residential and Commercial Building Security Services Offered
Each year, approximately 200,000 homes across Canada are broken into. Most of these homes lack basic security measures, presenting a low-risk target for criminals, and an attractive one for crimes of opportunity. Blackbird Security's residential security team are standing by to assist. Here are some of our most popular residential security services:
Residential Mobile Patrol
Our mobile patrols can be customized to provide a level of coverage to suit any budget. Our guards can be assigned to cover routes at random intervals that will keep criminals guessing. Our Mobile Security team can be tracked in real time. This is thanks to our cutting edge TrackTik GPS monitoring technology.
Alarm Monitoring
Heading out of town? Our alarm monitoring team are available 24/7 with a reliable and fast response. When an alarm is triggered, our team responds within minutes, assessing the scene, addressing the cause of the alarm and providing a detailed report of their findings. No matter where you are, you'll instantly know what triggered the alarm, and what our guards found at the scene.
On-Site Security Guard
Available on short notice, for long or short-term need, our security guards can be dispatched to provide a constant and highly visible deterrent to crime. As condo break-ins continue to spike across Canada, our guards can be deployed to monitor access points, garages and other vulnerable sites.
Where are Residential and Commercial Security Guards Used?
Our residential security guards aren't just for large private homes and gated communities. In fact, they're a fantastic choice for a range of residential properties. They work to build community while keeping residents safe and secure. Here are some of the common uses our residential security guards:

Condo Security
Strata Security
Townhouse Security
Gated Community Security
Private Estate Security
Social Housing Security
Hotel Security
Airbnb Security
REQUEST A QUOTE
★★★★★

I am the commercial operations manager at Dells Shopping Centre in Surrey, BC. We have been using Blackbird Security as our security vendor the past two years to provide us with 24/7 uniform security coverage. Their guards are professional, reliable and have excellent customer service. They deal with any incidents, loitering or attempted drug use on property immediately, tactfully and effectively. They have done outreach and formed good direct relationships with of our tenants. I would recommend this company for any malls or shopping centres looking for professional security guards.

Bill Cannon

Operations Manager, Bosa Commercial
★★★★★

Hired Blackbird for their security and concierge services. I am constantly impressed at the professionalism and quality of their team. Their guards are polite, respectful and have handled stressful situations with compassion. I would recommend Blackbird to anyone looking for security solutions.

Michael Gunion

General Manager, Operations and Marketing, Kevington Building Corp
★★★★★

The management are professional and responsive to requests made. They go above and beyond in customer service and satisfaction.

Sylvia Mcloughlin
★★★★★

I have tried many other security services - they are all the same and subpar at best. I gave Blackbird a shot and was very glad that I did. The management is super responsive, learns quickly from regular feedback and strives hard to meet my individual business needs. A refreshing experience vs dealing with the other security companies out there. Would recommend to any business looking for quality service!

Robson Liu
★★★★★

I have been using Blackbird Security for one year now and they have been nothing but the best. I am the head concierge of a condo building in which they work. the residents themselves have nothing but good things to say about the security placed at the desk. I would highly highly recommend this company. the BEST

Gordon MC
★★★★★

My condo building concierge, Peter, works for Blackbird Security. He is very friendly, professional and organized. We love him at our building! When he is away, they usually have a couple of other decent guards as well. My last building concierge was garbage so it makes a difference especially for parcels!

David Otoni
★★★★★

I highly recommend Blackbird for any security needs. They provide patrol services to a property I manage in Vancouver and they have been able to reduce trespassing on the property as well as increasing the security of the building. Their customer service is top notch.

Madison Moore

Icona Properties, Property Manager
★★★★★

Professional, flexible and easy to work with! They have been providing service for our building for over a year and so far we're happy and would definitely recommend them!

Andrea Horbaty

Board Member of Ultima Tower
★★★★★

We used Blackbird Security over the Christmas holidays. They were on time, very professional and respectful of our building, and easy to deal with. I highly recommend them.

Bryan Polak

General Manager of West Hillhurst Community Association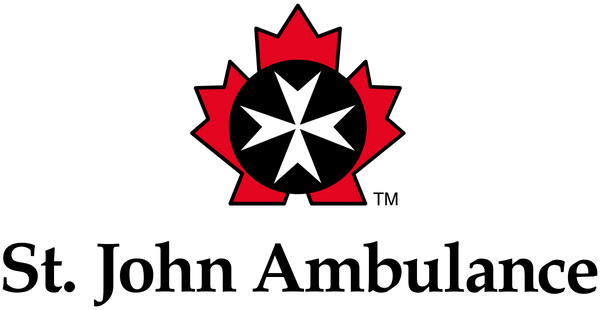 Industry Leading Training Through our Blackbird Academy
Delivered via our own in-house team and exterior experts, our comprehensive training program encompasses areas like St. John's Mental Health Training, Indigenous Awareness Training, and Conflict Resolution. If your current security provider doesn't offer this level of training, perhaps it's time to upgrade.
Let's Discuss Your Security Options
Want to hear more about Blackbird Security's services? If you have any questions about our services, or how Blackbird Security can help protect your business, don't hesitate to contact us.
Looking for employment? Check out our Job Board for current openings!
Please note that all job inquiries must be made on Indeed and will be blocked if made on the form below.