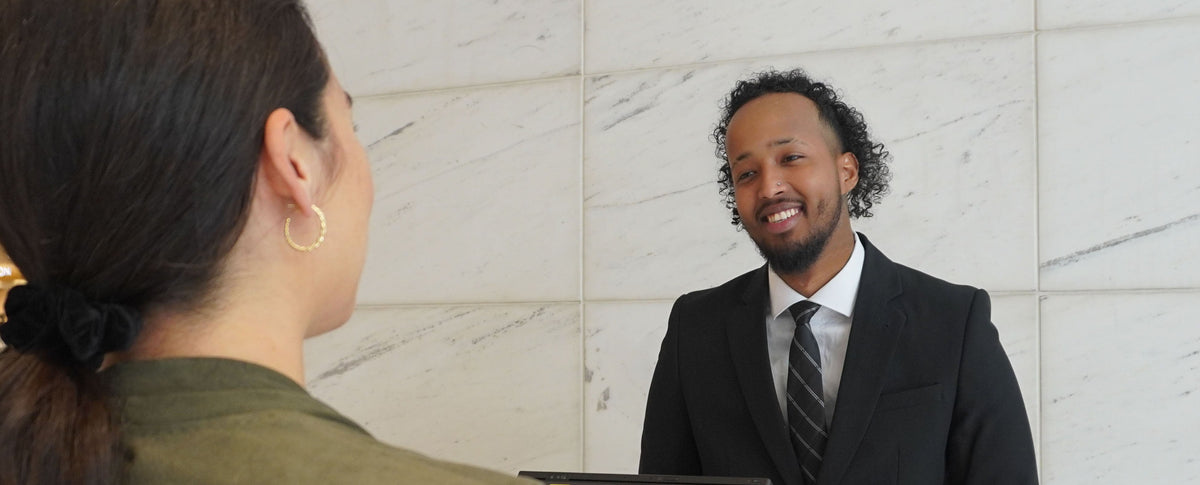 Canada's No.1 Concierge Security Company
Concierge Security is one of Canada's fastest growing security services, and Blackbird Security's team of dedicated concierge security specialists are ready to provide fully customizable concierge services. We understand that a concierge isn't your average security professional. They act as a front-of-house visible presence that strike the perfect balance between welcoming and secure. That's why our Blackbird Academy training program equips our concierge professionals with the multi-disciplinary training they need to respond to any scenario in their stride.

Request a Quote
Why are Concierge Services Important?
A concierge is a unique security professional who can quickly pivot between a security and hospitality mindset.
Alongside a welcoming presence for clients, staff and residents alike, they control access to your building, offer front-line support, and respond to any query with a smile. They are also trained to provide first aid assistance, uphold your building policies and act as fire marshals in the event of an evacuation scenario. 
Typical Duties of Concierge Staff
Frontline security presence

Greeting/Checking-in visitors

Upholding building rules and regulations

Property surveillance

CCTV monitoring
Alarm response

Customer service for building occupants

Incident Report writing

Package collection

Protection against theft, accidents, fires
Where are Concierge Security Staff Used?
It's an old-fashioned view that concierge security guards belong exclusively to strata or residential buildings. In fact, concierge staff are suitable for almost any type of business. Whether they're deployed in a suit and tie, or professional security uniform, concierges provide a reassuring welcome and security presence for a wide range of properties:

Public/Municipal Buildings
Office Buildings
Medical Complexes
Warehouses
Condo Buildings
Tourist Attractions
Sports and Recreation Buildings
Cultural Locations
Retail/Mixed-Use Buildings
Request a Quote
Strata / Residential Concierge Services
Suitable for condo buildings, strata's, gated communities and even guest accommodations, our residential concierge security ensure only residents and their guests are granted access to the building. Thanks to their conflict resolution and customer service training, they are skilled at diffusing common building issues such as noise complaints, parties, or even assisting with package deliveries and moving day.
Office Concierge Services
Our Office Concierge Security staff provide clients and visitors alike with a warm and reassuring welcome. Trained to deliver concierge and security-related services, they'll enforce your building policies, receive packages, and look after your best interests – all while representing your business in a manner you can trust.
Commercial Concierge Services
Our commercial concierge security team are ready to assist with the safety and security of your commercial property. They are trained to monitor alarm systems, CCTV cameras, safeguard keys and enforce building policies with a minimum of fuss. In the event of a worst-case scenario, their training equips them to provide first aid assistance, or even act as a fire marshal in a building evacuation scenario.
Uniformed Security Guards
With residential buildings and spaces a constant target for vandalism, loitering and mischief, our uniformed security guards provide an effective visual deterrent and frontline response. Our uniformed guards are security professionals with extensive & advanced training.
★★★★★

Hired Blackbird for their security and concierge services. I am constantly impressed at the professionalism and quality of their team. Their guards are polite, respectful and have handled stressful situations with compassion. I would recommend Blackbird to anyone looking for security solutions.

Michael Gunion

General Manager, Operations and Marketing, Kevington Building Corp, District Main and The U
★★★★★

We have been using Blackbird Security concierges for over 2 years at our building and I have nothing but great things to say about them. The residents have given us great feedback about the concierge personnel Blackbird has placed at the front desk and I would highly recommend this company to other stratas and property management companies.

Gordon MC

Stratawest Management Ltd.
★★★★★

I hired Blackbird Security several times for suit and tie client events, special open houses and concierge services. The concierge team members were always very professional and had excellent deportment. You can tell Blackbird puts a heavy emphasis on customer service training with their staff. Dealing with Blackbird for the past 5 years has been a pleasure and I will continue to use and recommend their services to other property managers and strata council members.

Eniz Aziz

Century 21 and The Aziz Group
★★★★★

I highly recommend Blackbird for any security needs. They provide patrol services to a property I manage in Vancouver and they have been able to reduce trespassing on the property as well as increasing the security of the building. Their customer service is top notch.

Madison Moore

Icona Properties, Property Manager
★★★★★

Professional, flexible and easy to work with! They have been providing service for our building for over a year and so far we're happy and would definitely recommend them!

Andrea Horbaty

Board Member of Ultima Tower
★★★★★

We used Blackbird Security over the Christmas holidays. They were on time, very professional and respectful of our building, and easy to deal with. I highly recommend them.

Bryan Polak

General Manager of West Hillhurst Community Association
★★★★★

Great company, very professional and follows up frequently. Responsive guards, detailed reports and a perfect option for building security.

Josh Kempf

General Manager, Sandman Hotel Winnipeg
★★★★★

Blackbird security provides us with ongoing weekend overnight security services. All the guards are very well trained and go above and beyond the call of duty. Great customer service, great communication. Love getting the daily shift reports via email for easy review and tracking. The regional manager responds to questions and concerns extremely quickly and is always available to chat and communicate info to the on-site staff.

Ryan Kelly

Maintenance Manager, The Arc Residence
Industry Leading Training Through our Blackbird Academy
As the role of security professionals continues to evolve, Blackbird Security saw the need to train our staff to handle any scenario in a calm and reassuring manner. That's why we created our pioneering Blackbird Academy training program. 
Delivered via our own in-house team and exterior experts, our comprehensive training program encompasses areas like St. John's Mental Health Training, Indigenous Awareness Training, and Conflict Resolution. If your current security provider doesn't offer this level of training, perhaps it's time to upgrade.
Modules include:
Advanced Security Training (taught by our in-house certified AST Training Manager)

Strata Bylaw Comprehension and Enforcement

Occupational First Aid (OFA) Certification

Naloxone Administration Training

St. John's Mental Health Training

Trauma Informed Training

Indigenous Awareness Training 201 (in partnership with Indigenous Awareness Canada)
Customer Service Training

Incident De-escalation and Conflict Resolution Training

Verbal and Written Communication Training

Incident Report Writing

CCTV Training

Crowd Control Training

WHMIS Training
Above all else, our guards must hold a valid security license for the province they operate in. 
TRACKTIK TECHNOLOGY
Real-Time Reporting
Many of Blackbird Security's most popular services utilize the power of TrackTik technology for real-time reporting. Based on GPS tracking, this app allows our security guards to work smarter, more efficiently, and cover more ground. Via GPS pings, clients can watch the progress of security patrols in real time via an app or live dashboard that also includes critical details like pictures and reports from the field.
Giving back to our community
Social Impact
Blackbird Security is committed to improving the diverse communities we serve by creating a culture clients, employees and management are proud to be a part of. We believe security companies like ours have a leading role to play in creating a better society for all. We achieve this goal by working to uplift marginalized communities across Canada, alongside our support of organizations such as the Breakfast Club of Canada, ALS Canada, and Covenant House.
Let's Discuss Your Security Options
Want to hear more about Blackbird Security's services? If you have any questions about our services, or how Blackbird Security can help protect your business, don't hesitate to contact us.
Looking for employment? Check out our Job Board for current openings!
Please note that all job inquiries must be made on Indeed and will be blocked if made on the form below.