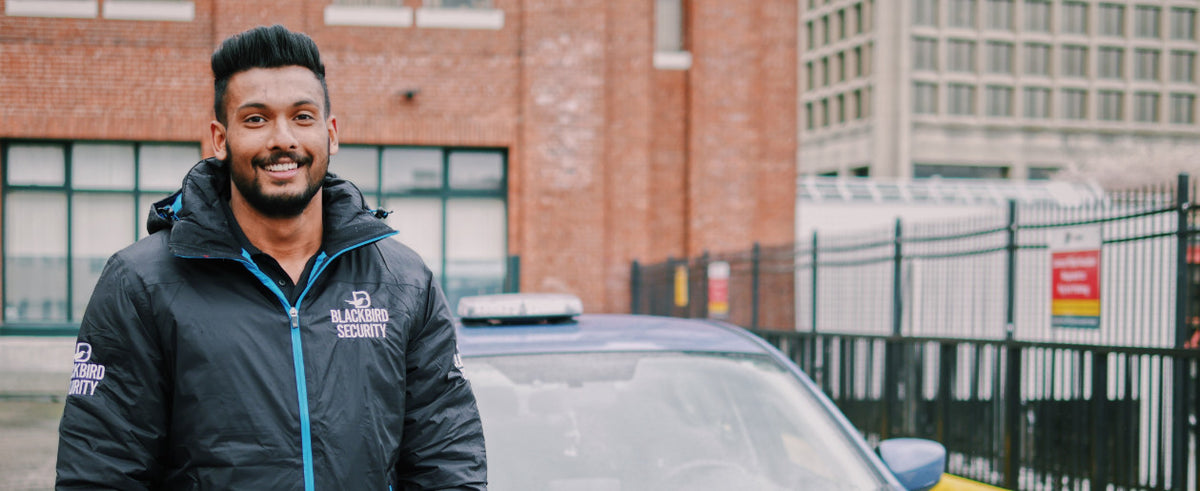 Security Coverage When You Need It
Don't need a dedicated security guard at your site? Blackbird's Patrol Security team provides all the value and coverage of a full-time guard, without cutting corners on the service. Our patrol security service is offered 24-hours a day, 365 days a year, acting as frontline prevention against theft, vandalism, and other threats to the safety and security of your site. Thanks to their industry-leading training and flexibility, our patrol security guards are utilized by a growing number of clients across Canada

Request a Quote
Why Are Patrol Security Services Important?
In an era of tight budgets and rising crime, we learned that many of our clients need a robust security presence, but their budget doesn't allow for a full-time security officer. We created our patrol security service to fill this need, providing a proven barrier against theft, vandalism and other threats to the security of a site. Typically deployed on foot, our security guards are trained to respond to any scenario swiftly, while adhering to your existing security protocols. Following the completion of each patrol, you'll receive a detailed report from the scene
Typical Duties of Patrol Security Staff
Strategic, randomized patrols of the site

Scheduled locking and unlocking of key access points

Alarm response

Checking integrity of locks, shutters and gates
Dealing with criminal behaviour

Conflict resolution

Real-time reporting during their patrol

Frontline emergency response
Where are Patrol Security Guards Used?
Blackbird's Patrol Security Guards are commonly deployed in spaces where a static security guard isn't required. Instead, they patrol pre-determined routes around your property, watching closely for incidents, signs of forced entry, or anything out of the ordinary. They're highly effective on their own, or deployed alongside a static security guard. Examples of sites commonly covered by our patrol security guards include:

Office Buildings
Shopping Malls
Warehouses
Parking Lots
Construction Sites
Industrial Land
Healthcare Facilities
Condo Buildings
Request A Quote
Uniformed Foot Patrol
Our dedicated foot patrol team ensures a highly visible security patrol presence around your site when it's needed most. They are equally adept at conflict resolution, and adopting a customer service-style approach to enquiries from the general public. Our clients love the flexibility and service standards of our foot patrol team, with the service custom-tailored to fit their unique needs and budget.
Vehicle Patrol
Need a rapid response at your site? Our vehicle patrol team are second-to-none. Whether their presence is required at predetermined or on a random basis, our vehicle patrols can be tailored in frequency to match your security needs and budget.
Alarm Response
We get it, you can't have staff on-site 24 hours a day. That's why our Patrol Security team can be deployed exclusively to respond to alarms and other specific triggers at your property. All incidents they find are logged in a detailed Incident Report, so you're fully aware of the situation and how it was handled. Thanks to our TrackTik technology, you'll even receive images of the site as our guards found it.
★★★★★

Had the pleasure of hiring Blackbird Security for my industrial portfolio which covers over one million square feet in area. They have been amazing to work with; great communication, detailed reports and always go above and beyond their scope of work to ensure a proper job has been completed. Would recommend this company to property managers who want to ensure first class service to their tenants.

Perry Mahal

Industrial Property Manager, ONNI Group
★★★★★

Blackbird Security's staff have been professional, reliable and on time. In cases where staff have been sick, Blackbird has always made replacements to ensure we have the coverage necessary. They are quick to respond to calls and available anytime during the day/evening.

Paige MacWilliam

Director of Corporate Services, Duncan BC
★★★★★

Our business association employed the services of Blackbird Security to ensure the safety and security of our business members and community in southwest Vancouver. We appreciated the professionalism displayed by the staff and guards, as well as the prompt attention to our concerns and emails. Nightly patrol reports were filled and staff kept us informed and updated on issues in the district as required. Can highly recommend Blackbird Security to businesses or associations requiring security services.

Claudia Laroye

Executive Director, Marpole Business Association
★★★★★

Blackbird Security is an outstanding integrated security provider. They supply professional and reliable security guards for a couple Downtown properties of ours in Edmonton, Alberta. Their mobile guards are very responsive, fast acting, professional and thorough during their patrol checks. With combining their guard man-power and mobile fleet, we have peace of mind that our site is always safe and secure. With my two Downtown locations, I need to be able to trust that my security provider has not only our back, but our valued tenants as well. With that in mind I have no doubt that they will be able to provide you the same top notch service for any of your security needs.

David Lehman

Commercial Property Manager, ONNI GROUP
★★★★★

We have Blackbird security patrolling in our neighbourhood for our business in Duncan BC. They are always prompt when we have disturbances and keep our area in good standing. Alex has been a fantastic contact there.

Ryan King

Duncan, BC
Industry Leading Training Through our Blackbird Academy
As the role of security professionals continues to evolve, Blackbird Security saw the need to train our staff to handle any scenario in a calm and reassuring manner. That's why we created our pioneering Blackbird Academy training program. 
Delivered via our own in-house team and exterior experts, our comprehensive training program encompasses areas like St. John's Mental Health Training, Indigenous Awareness Training, and Conflict Resolution. If your current security provider doesn't offer this level of training, perhaps it's time to upgrade.
Modules include:
Advanced Security Training (taught by our in-house certified AST Training Manager)

Strata Bylaw Comprehension and Enforcement

Occupational First Aid (OFA) Certification

Naloxone Administration Training

St. John's Mental Health Training

Trauma Informed Training

Indigenous Awareness Training 201 (in partnership with Indigenous Awareness Canada)
Customer Service Training

Incident De-escalation and Conflict Resolution Training

Verbal and Written Communication Training

Incident Report Writing

CCTV Training

Crowd Control Training

WHMIS Training
Above all else, our guards must hold a valid security license for the province they operate in. 
TRACKTIK TECHNOLOGY
Real-Time Reporting
Many of Blackbird Security's most popular services utilize the power of TrackTik technology for real-time reporting. Based on GPS tracking, this app allows our security guards to work smarter, more efficiently, and cover more ground. Via GPS pings, clients can watch the progress of security patrols in real time via an app or live dashboard that also includes critical details like pictures and reports from the field.
Giving back to our community
Social Impact
Blackbird Security is committed to improving the diverse communities we serve by creating a culture clients, employees and management are proud to be a part of. We believe security companies like ours have a leading role to play in creating a better society for all. We achieve this goal by working to uplift marginalized communities across Canada, alongside our support of organizations such as the Breakfast Club of Canada, ALS Canada, and Covenant House.
Let's Discuss Your Security Options
Want to hear more about Blackbird Security's services? If you have any questions about our services, or how Blackbird Security can help protect your business, don't hesitate to contact us.
Looking for employment? Check out our Job Board for current openings!
Please note that all job inquiries must be made on Indeed and will be blocked if made on the form below.