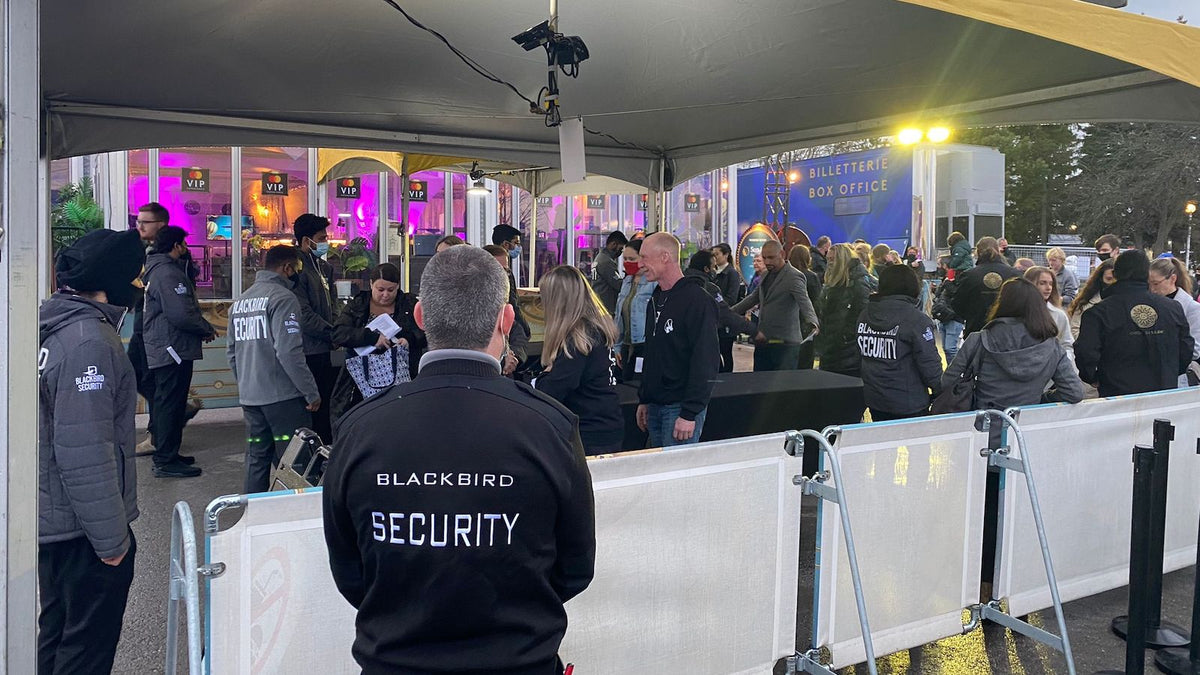 Event Security Experts
There's no better feeling for an event planner than an event that goes off without a hitch. The problem is, it takes a lot of planning to reach that point. Take the stress from event planning with Blackbird Security's range of event security services. We are Canada's best event security company. Whether you're hosting a conference, concert, sporting event or street festival, our combination of industry leading training and event experience ensures a safe and memorable experience for all attendees. 
Request a Quote
Why Are Event Security Services Important?
Events bring together crowds of individuals from all walks of life. How these individuals interact and behave is a variable event planners struggle with. Partnering with an event security expert like Blackbird Security brings years of relevant security experience to the table. No matter the size or scope of your event, we've been there and done that.
Our expert team can assist with elements like crowd control, preventing unauthorized entry, CCTV monitoring and frontline emergency response. Our event security services are second to none at delivering peace of mind.
Typical Duties of an Event Security Guard
Access and Ticketing Control

Crowd Control

CCTV Surveillance

Customer Service
Incident Diffusion

Risk Assessment Services

Traffic Management and Parking Enforcement

Stage Access Control
Where are Event Security Staff Used?
Whether your event is indoors or outdoors, large or small, our event security team have the training and expertise to ensure it succeeds. Here are some of the types of events we have provided event security for across Canada:

Retail Event Security
Concert Security
Festival Security
Sporting Event Security
Conference Security
Product Launch Security
Trade Show Security

If your type of event isn't listed, we'd love to hear from you. We'll create a tailored event security plan that delivers on your security requirements while remaining respectful of your budgets.
request a quote
Risk Assessment
Each event carries an element of risk that needs to be factored into the organizer's plan. A security site assessment, or physical risk assessment, is an evaluation conducted by a security expert that includes actionable recommendations on how to safeguard the site and prevent risk. Not only is safety important for guests, it's also important to cover yourself against any potential liabilities.
Uniformed Security Guards
Events ebb and flow and there's always a small element of chaos involved on the day. A uniformed security guard is your frontline defense against crowd incidents, gate crashers, or anyone causing trouble within the event. Our uniformed security guards are experts at diffusing challenging situations thanks to their customer service training and security experience.
Mobile Patrol Security
If you're running an outdoor event, our mobile patrol security team will ensure the integrity of your perimeter and prevent anyone from gatecrashing. Our event team follow pre-arranged routes on a randomized schedule in highly visible security vehicles. They're flexible, they're efficient, and they're cost-effective.
★★★★★

The Blackbird team was unbelievably helpful and professional at our company's event. The team showed up every single time sharp and ready to tackle any tasks assigned to them. Everything was simple and organized. They lead you through the whole process so you understand what services they are providing you as well as what you need from them and how they are going to deliver it. Thank you Blackbird and Ranko for the best experience.

Azin Lahijani

Event Coordinator at ParkWest Living in North Vancouver
★★★★★

It was a pleasure having Blackbird Security on board with our event this year. Our Pharmacy Skits Night welcomes 500-600 students and faculty each year and is held in a large venue. From the feedback I've received from our attendees, all the guards were respectful and attentive to the crowd. We look forward to continuing to work together in the future and do not hesitate to recommend the company to colleagues.

Emily Li

Faculty of Pharmacy Event Organizer at UBC in Vancouver
★★★★★

I hired Blackbird Security several times for suit and tie client events, special open houses and for concierge services. Their security guards were all presentable and professional. Dealing with Black bird has been a pleasure and I will continue to use their security services. Their security training is excellent and their employees are all great to deal with. Blackbird is a fantastic security company.

Eniz Aziz

Century 21 and the Aziz Group
★★★★★

We had a small private event and needed suit and tie security. Brett and his team did an excellent job. Good professional company, will use them again.

Dominic Corisi
★★★★★

I wouldn't trust any other company than Blackbird to take the stress off of event hosting.

Attilla
★★★★★

Great service at a recent event we held at our residence. Security guard stayed longer than our hired time slot to ensure the property was secured.

Jason G
★★★★★

Blackbird Security gets 2 thumbs up from me and my family. We unfortunately lost my Dad suddenly last year, and because of the COVID regulations planning a funeral was harder (than normal). We hired Blackbird to help maintain social distancing between guests, contact tracing, and to make sure masks & sanitizer were available for everyone during our outside Celebration of Life for our Dad. Thank you Blackbird for helping us celebrate my Father's life safely. My family appreciated your hard work.

Krystal Primeau-Hall
Industry Leading Training Through our Blackbird Academy
As the role of security professionals continues to evolve, Blackbird Security saw the need to train our staff to handle any scenario in a calm and reassuring manner. That's why we created our pioneering Blackbird Academy training program. 
Delivered via our own in-house team and exterior experts, our comprehensive training program encompasses areas like St. John's Mental Health Training, Indigenous Awareness Training, and Conflict Resolution. If your current security provider doesn't offer this level of training, perhaps it's time to upgrade.
Modules include:
Customer Service Training 

Verbal and Written Communication Training 

Incident Report Writing 

Access and Crowd Control Training
Incident De-Escalation Training

Advanced Security Training 

WHIMS Training 

OFA (Occupational First Aid) Training
Above all else, our guards must hold a valid security license for the province they operate in. 
TRACKTIK TECHNOLOGY
Real-Time Reporting
Many of Blackbird Security's most popular services utilize the power of TrackTik technology for real-time reporting. Based on GPS tracking, this app allows our security guards to work smarter, more efficiently, and cover more ground. Via GPS pings, clients can watch the progress of security patrols in real time via an app or live dashboard that also includes critical details like pictures and reports from the field.
Giving back to our community
Social Impact
Blackbird Security is committed to improving the diverse communities we serve by creating a culture clients, employees and management are proud to be a part of. We believe security companies like ours have a leading role to play in creating a better society for all. We achieve this goal by working to uplift marginalized communities across Canada, alongside our support of organizations such as the Breakfast Club of Canada, ALS Canada, and Covenant House.
Let's Discuss Your Security Options
Want to hear more about Blackbird Security's services? If you have any questions about our services, or how Blackbird Security can help protect your business, don't hesitate to contact us.
Looking for employment? Check out our Job Board for current openings!
Please note that all job inquiries must be made on Indeed and will be blocked if made on the form below.